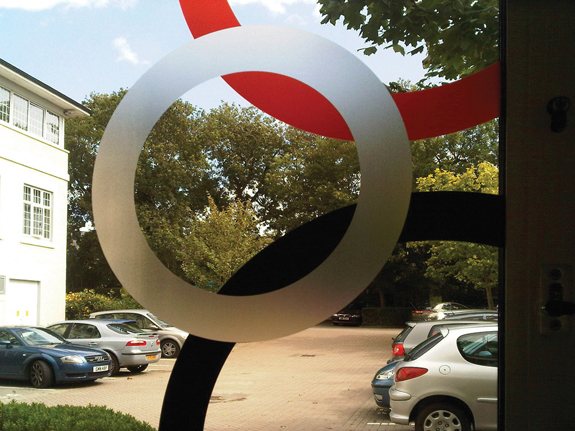 Forget cutting and weeding! Get creative with HDFrost custom printed decorative window film. Using a unique high definition print process to replicate the effect of traditional frost vinyls and films.
The days of cutting and weeding out patterns on etch, sandblasted, dusted crystal and frost window films and vinyls have been relegated to the past, thanks to an innovative new product release from HDClear – the global decorative window film market leaders.
HDFrost uses a unique high definition printing process that exploits a combination of light gray and white inks to replicate the effect of frost. Any image, pattern or gradient, no matter how complicated or intricate, can be printed onto optically clear polyester window film without the need for any post print 'cutting/weeding' or the use of transfer tape.
Robert Davis, Director of Sales for HDClear commented: "The manual component of producing cut and weeded etch and frost decorative films is exceedingly onerous both in terms of time and money. HDFrost removes this hassle with outstanding effects to save hours of manual work for window film, graphics and glazing companies."
In addition to the time and cost savings, HDClear says the product has numerous other advantages over traditional vinyl solutions. Patterns and graphics can be seamless for a better finish and have no edges that might attract picking or other damage. The manufacturer says the range also blocks 99% of all incoming UV light and reduces solar energy by up to16%.
Following months of testing and refining, the HDClear team has also been working to improve not only the quality of the printed image but also the color density and opacity of its finished printed decorative window film. As a result, the warranty on its products has been extended to 10 years. With many traditional vinyl solutions providing a seven-year warranty, this HDClear says this provides it with a further differentiator in a growing market.
Robert Davis says: "We have always strived to be at the cutting edge of the decorative window film industry. This latest development has enabled us to provide our customers with an unrivalled warranty that reflects our confidence in the quality of our product.
"With a growing global client base we are working harder than ever to continually evolve and improve our products and move the industry forward. We are certain that a 10 year warranty will be an important factor for architects, designers, window tinters and agencies looking for the best decorative window film solution for their internal and external glazed areas."
HDClear provide an optically clear polyester-based PET decorative window film. Using a unique eight printing process on the film that includes color and white UV inks, HDClear provides optically clear decorative window graphics that appear as though they are printed direct to glass.
HDClear is an Ontario, California based company that manufacturers custom printed decorative window films to a growing global market. Since 2012, HDClear has consistently been at the forefront of decorative window film technology and development. HDClear is part of The AmGraph Group a privately held company. For more information on HDClear please visit our website.