HDLAM
Custom Printed Glass Interlayer Films
Decorative
Interlayer Films
Custom printed glass interlayer films for glass laminators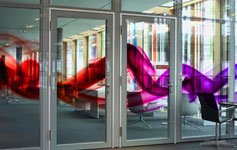 HDLam: Custom decorative window film for glass manufacturers and glaziers
HDLam is a bridging product for glass manufacturers and glaziers to realize the benefits of custom color and white graphics within laminated glass.
The decorative window film can be laminated between 2 layers of glass using EVA, PVB or cold pour lamination processes. Similar to ceramic printing the UV process allows infinitely more colors and patterns. The colors are inherently the colors they started as.
HDLam is high-end, 6-Mil safety film that exceeds federal guidelines for lamination and is an optically clear film with no adhesive. It is designed as an interlayer to lie between glass panels during the lamination process. This was strictly designed for longevity, strength, and vibrancy. Special consideration was made for its structure and ceramic-like print qualities.
Finally, a Window Film that exceeds the warranty limitations of the glass
The optically clear film is built with UV inhibitors and once thermo-sealed between glass panels (or alternate interlayer process), it is no longer exposed to the elements. This lamination exponentially increases the life span of HDLam and will see the print exceed the warranty limitations of the glass itself.
A solution to meet your exact requirements
We understand the importance of flexibility for glass manufacturers and glaziers with varying architectural specifications and project requirements.
HDLam can be computer cut to the exact size requested for each and every panel. With no minimum order, you can specify with zero waste and replace single pieces with ease.
Risk and efficiency are also taken care of as the film can be set in place as the glass enters the laminator reducing the need for double and triple handling. We can provide the film in any sequence to smoothly deliver film within a laminator's production schedule.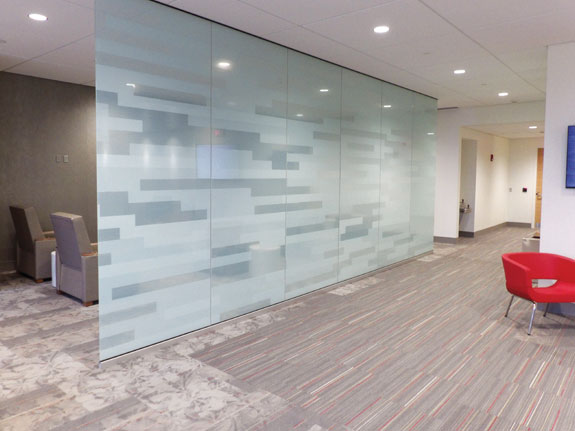 Need help choosing the right solution?
HDClear window film experts are on hand to give you guidance and help you find the right solution to meet your needs.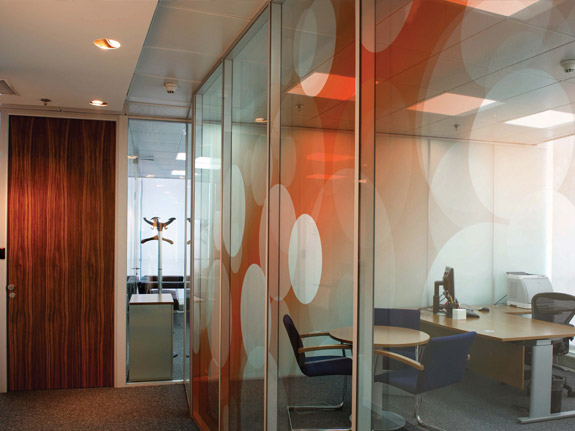 Request a free sample pack with examples of the different HDClear custom printed decorative window film solutions.
Custom printed color (CMYK) and white ink decorative interlayer window film
100% optical clarity in the un-printed areas
Intrusion and burglary resistant 4Mil Clear Safety – 7-Mil is available for an additional cost
Available in widths of up to 60"
The ability to use custom images, patterns or gradients give your glass a distinctive flair
Perfect for architectural or interior glass
What makes HDLam architectural window film different?
HDWhite works with true, optically clear polyester film (PET). We use a unique printing process with white inks. Applied in layers, our proprietary process allows graphics to be viewed from one or both sides of the glazing, permitting natural light to flood through. Our optically clear polyester film outlasts all traditional vinyl graphic applications to flat glass areas.
The HDClear PET substrate is a true polyester-based blast mitigation film with almost 100% optical clarity in the un-printed areas. When properly fitted to glazing, the film becomes undetectable. To put it simply, the film is virtually as clear as the glazing it is applied to. The substantial added benefit of clarity makes the images appear as part of the glazing. Our film bypasses inherent problems and cost of decorative laminated glass or direct-to-glass printing.
100% Optical Clarity
The HDClear polyester film (PET) is 100% optically clear in the un-printed areas.
High Def Inks – Color & White
High definition color and white inks, produce stunning results from any pattern or design.
Two Way Vision
The unique print process allows any images to be viewed from both sides of the glass.
Custom Printed Gradients
HDClear can custom print any opacity or translucency of color and white gradients.
Safety and Security
HDClear films help to hold the glass together in the event of an impact or an explosion.
Fire Rated
HDClear printed decorative window film carries a Class 0 fire rating.
10 Year Warranty
HDClear is backed by the industry's first 10 Year Warranty for flat glass applications.
Extra Wide 70" Widths
Cover even the largest windows in one piece. HDClear can be custom printed to 70" wide.
99% UV Reduction
HDClear removes 99% of all incoming UV light, elimanating fading of interior furnishings.
16% Solar Heat Reduction
HDClear printing provides multipliers to initial 16% TSER (Total Solar Energy Reduction).
Sustainability and Flexibility
Upgrade branding while mitigating the expense of full remodeling.
Cost Effective
HDClear gives the impession of direct to glass printing at a lower cost with added benefits.