Transparent
or Translucent
Single sided, custom frost printed decorative window film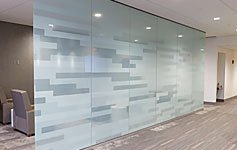 HDWhite: Custom printed white designs on optically clear window film

HDWhite custom white printed window film uses high-definition white printing technology developed by HDClear. The process replicates just about any image, pattern or gradient onto optically clear polyester film (PET) with stunning results and ease of installation.
Our unique process removes the need for cutting and weeding from vinyl or screen-printing onto films, both of which are lengthy and costly processes.
Our most common HDWhite projects are those involving custom printing patterns similar to 3M Fasara, Solyx, or alternate pre-manufactured films. Since we can match the white levels and patterns on our optically clear 72" wide film, we have become the industry leader in all white related decorative window film projects.
Benefits of white printed window film
HDClear developed HDWhite as an independent line to account for all the global graphics interest in white patterns. White allows a huge amount of light penetration while simultaneously offering privacy – making it very popular with architects and designers.
The flexibility and broad application for white printed window film is made even more attractive with an industry-first 10-year warranty.
Choosing the right white printed window film
We understand how critical sourcing and specifying the correct solution is. Our aim is to make sure we help you get this right first time. To see the quality of HDWhite, our sample book includes cut sheets of White Scale Grid and White Scale Overlay.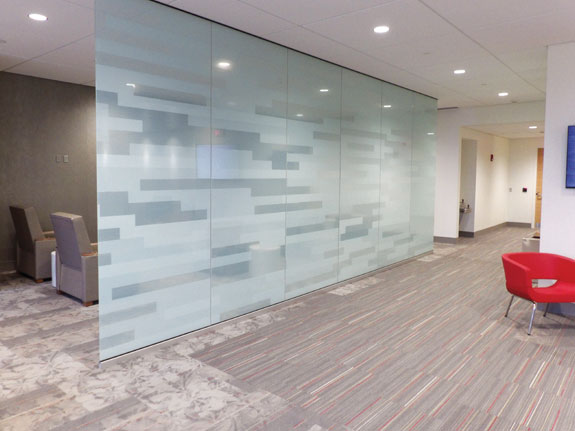 Need help choosing the right solution?
HDClear window film experts are on hand to give you guidance and help you find the right solution to meet your needs.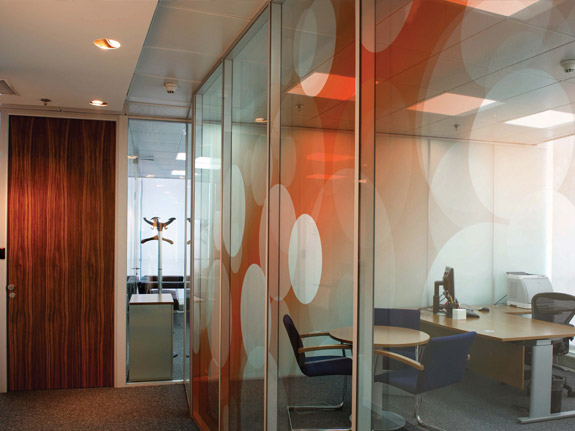 Request a free sample pack with examples of the different HDClear custom printed decorative window film solutions.
Custom printed white ink images and designs onto our optically clear window film
100% optical clarity in the un-printed areas
Intrusion and burglary resistant 4Mil Clear Safety – 7-Mil is available for an additional cost
Available in widths of up to 70.5", very few projects require seaming
Film is hard coated with a scratch resistant coating that makes it highly durable and cleanable
Smooth surface that does not catch debris nor leaves edges which can easily lift
The ability to use custom images, patterns or gradients give your glass a distinctive flair
Perfect for architectural or interior glass
As a notoriously difficult color to print, expertise and experience in printed white onto window films can make all the difference to your end product. We have years of experience and printed miles of white-scale projects and are unmatched in controlling translucency levels.
We can use this experience to help you specify and design your window film solutions. For instance, a crucial note is that white surfaces reflect about 80% of the ambient light while black surfaces only reflect about 5%. White's higher reflectance usually affects translucency perceptions and a good rule of thumb is to consider 20% lighter translucency with white-scale projects than you would with greyscale or color-scale projects. As an example, 20% White-scale is similar in appearance to a 40% Greyscale.
What makes HDWhite architectural window film different?
HDWhite works with true, optically clear polyester film (PET). We use a unique printing process with white inks. Applied in layers, our proprietary process allows graphics to be viewed from one or both sides of the glazing, permitting natural light to flood through. Our optically clear polyester film outlasts all traditional vinyl graphic applications to flat glass areas.
The HDClear PET substrate is a true polyester-based blast mitigation film with almost 100% optical clarity in the un-printed areas. When properly fitted to glazing, the film becomes undetectable. To put it simply, the film is virtually as clear as the glazing it is applied to. The substantial added benefit of clarity makes the images appear as part of the glazing. Our film bypasses inherent problems and cost of decorative laminated glass or direct-to-glass printing.
100% Optical Clarity
The HDClear polyester film (PET) is 100% optically clear in the un-printed areas.
High Def Inks – Color & White
High definition color and white inks, produce stunning results from any pattern or design.
Two Way Vision
The unique print process allows any images to be viewed from both sides of the glass.
Custom Printed Gradients
HDClear can custom print any opacity or translucency of color and white gradients.
Safety and Security
HDClear films help to hold the glass together in the event of an impact or an explosion.
Fire Rated
HDClear printed decorative window film carries a Class 0 fire rating.
10 Year Warranty
HDClear is backed by the industry's first 10 Year Warranty for flat glass applications.
Extra Wide 70" Widths
Cover even the largest windows in one piece. HDClear can be custom printed to 70" wide.
99% UV Reduction
HDClear removes 99% of all incoming UV light, elimanating fading of interior furnishings.
16% Solar Heat Reduction
HDClear printing provides multipliers to initial 16% TSER (Total Solar Energy Reduction).
Sustainability and Flexibility
Upgrade branding while mitigating the expense of full remodeling.
Cost Effective
HDClear gives the impession of direct to glass printing at a lower cost with added benefits.