One Way Vision
for Privacy
Double-sided window graphics, custom printed one way vision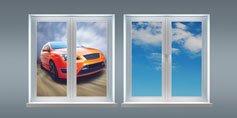 HDView sets the standard for one-way visibility window film
HDView is an optimum solution for creating one-way visibility window film. Using our HDView overlap registration, we are able to produce fully branded and visual privacy experiences, delivering maximum graphic impact to one side and a perfectly clear view on the reverse. HDView does a great job of promoting one-way visibility between two rooms of equal light sources.
HDView standard for one-way visibility:
Full coverage on any side of the glass
48" 60" & 72"
Federally rated safety film
10-year interior warranty (conditions apply)
Single smooth surface with high definition printing
The old standard for one-way printing:
Strictly for #1 surface exterior installations
46"- 58" film
Limited 2 year durability
Perforated with tiny holes which catch debris
Prone to installation issues because of perforated holes, which makes the material inherently weaker
Options for one-way window film printing with HDView
HDView – Striated:This option prints in lines similar to venetian blinds. Because the image is printed in more solid pieces the final print is sharper and more defined.
HDView – Pixelated:Rather than printing in lines, pixelated follows the same pattern as standard perforated films. The images are fuzzier because a pattern of clear holes breaks up the image congruity.
HDView + HDClear 3:An exciting alternative is the blend of HDClear 3 and HDView. The top and bottom of an image are solid but an area in the middle at eye level is left Striated. This allows for the greatest one-way visibility and stronger image control.
The third option of combining our HDClear 3 and HDView products enables the lower and upper portions of a glass panel to be hidden. This can be useful to conceal drop ceiling and floor spaces when viewing through glass panels. In some cases this is an excellent way of providing shading where higher glass pushes too much sun into a space.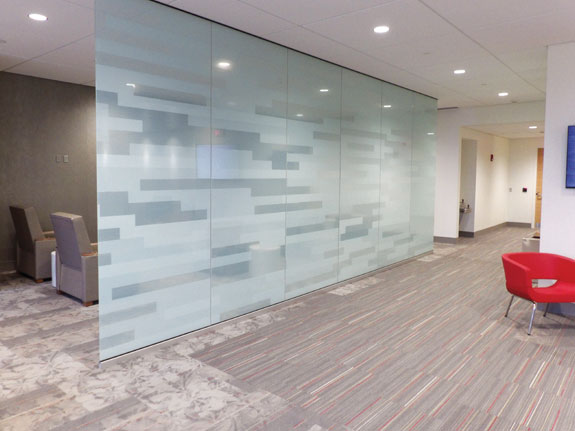 Need help choosing the right solution?
HDClear window film experts are on hand to give you guidance and help you find the right solution to meet your needs.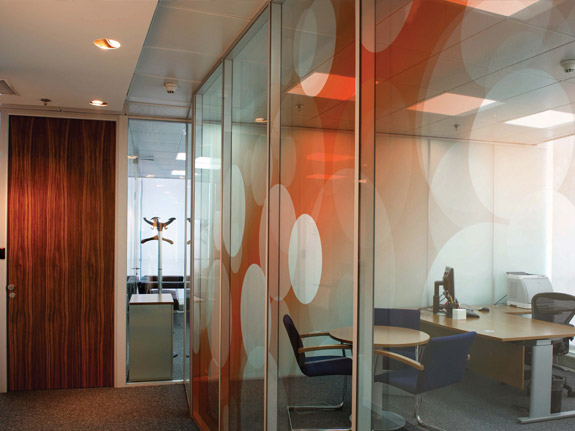 Request a free sample pack with examples of the different HDClear custom printed decorative window film solutions.
HDView overlap registration for the ultimate one-way vision images and graphics
100% optical clarity in the un-printed areas n UV stable PET substrate offers benefits over the traditional perforated vinyl one-way vision solutions
Available in widths of up to 70.5", very few projects require seaming
Smooth surface which does not catch debris not leaves edges which can lift
The ability to use custom images, patterns or gradients
Perfect for architectural or interior glass
What makes HDView architectural window film different?
HDView works with true, optically clear polyester film (PET). We use a unique printing process with CMYK inks and white inks. Applied in layers, our proprietary process allows graphics to be viewed from one or both sides of the glazing, permitting natural light to flood through. Our optically clear polyester film outlasts all traditional vinyl graphic applications to flat glass areas.
The HDClear PET substrate is a true polyester-based blast mitigation film with almost 100% optical clarity in the un-printed areas. When properly fitted to glazing, the film becomes undetectable. To put it simply, the film is virtually as clear as the glazing it is applied to. The substantial added benefit of clarity makes the images appear as part of the glazing. Our film bypasses inherent problems and cost of decorative laminated glass or direct-to-glass printing.
One-Way Visibility – is only possible when there is a 10x greater light source on one side of the glass. During the day the sun provides the greater light source. At night, interior lighting is stronger and while it is difficult to see through HDView it can be done. For night-time privacy, HDView works best when there are strong streetlights nearby or the night time ambient light is great.
Myth Busted – There is no window film on the market that will allow you to see out day or night and no one see in. But, we know the methods to help simulate this effect. A single piece of plastic (or glass) cannot purely direct vision one-way during the day and night hours of operation.
100% Optical Clarity
The HDClear polyester film (PET) is 100% optically clear in the un-printed areas.
High Def Inks – Color & White
High definition color and white inks, produce stunning results from any pattern or design.
Two Way Vision
The unique print process allows any images to be viewed from both sides of the glass.
Custom Printed Gradients
HDClear can custom print any opacity or translucency of color and white gradients.
Safety and Security
HDClear films help to hold the glass together in the event of an impact or an explosion.
Fire Rated
HDClear printed decorative window film carries a Class 0 fire rating.
10 Year Warranty
HDClear is backed by the industry's first 10 Year Warranty for flat glass applications.
Extra Wide 70" Widths
Cover even the largest windows in one piece. HDClear can be custom printed to 70" wide.
99% UV Reduction
HDClear removes 99% of all incoming UV light, elimanating fading of interior furnishings.
16% Solar Heat Reduction
HDClear printing provides multipliers to initial 16% TSER (Total Solar Energy Reduction).
Sustainability and Flexibility
Upgrade branding while mitigating the expense of full remodeling.
Cost Effective
HDClear gives the impession of direct to glass printing at a lower cost with added benefits.