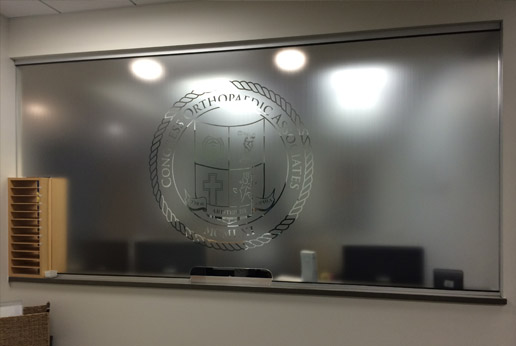 Frosting on windows looks great! Professional, sophisticated and classic, if you are running a business or office, frosted windows can make a statement. For anyone who has had windows frosted in the traditional way, it can be a challenging process, and for some, they may question whether it is worth the time and effort. After print, an extensive "cutting and weeding" process along with fiddling use of backing application tape is needed to create the frosting effect on windows. This would require either a great deal of skill and patience or a professional company to apply in order to make sure the finished look was up to standard. A plotted design would require hundreds of pieces and hours and hours of work! Sounds like a lot of hassle and a lot of work! Now there is a way to create custom etch, sandblasted, dusted crystal and frost effects to your windows without hassle, mess or risk and in far less time with HDFrost.
Frosting Without Hassle
Creating highly impactful, eye catching and long lasting window effects for every business, office or retailer, HDFrost is the high definition custom printed decorative window film from HDClear. Experts in custom printed window films, HDClear can produce any image, pattern or gradient to create a frost effect that is the envy of your competitors. For designers and architects, HDFrost offers a new dimension for windows with the ability to change the translucency if required! Unlike plotted designs, HDFrost is simple to install, the polyester film leaves the glass smooth and clean, and with a 10 year guarantee, you are assured of impactful windows for longer!
Talk to HDClear today for a change for your windows.