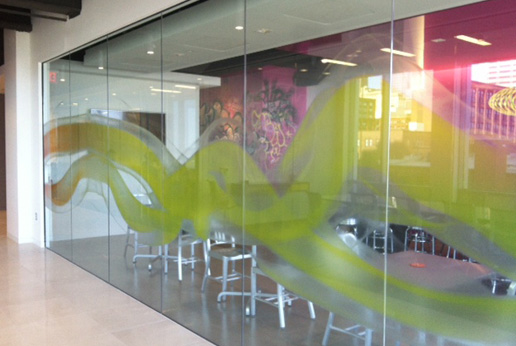 This has become our signature art style for HDClear 2 printing.
This client was looking for a distraction band. The end-user found our art online and passed it to his architect. During a three-conversation we discussed details pertinent to this project.
The client wanted his two corporate colors merged within the design.
Our art team split the design to accept any two colors. We are able to modify the art by changing color values, translucency levels and general size of print.
We are seeing a migration of design with architects and designers. First the manufactured frosted films were heavily used with plotted designs and both surfaces of glass filmed to simulate depth. Now customized fades are the current trend with our colored smoke being the pinnacle of design.
The edge of the glass frames our printed films and the clients enjoy vibrant prints within their space.
Any color can be used with the smoke which helps with corporate branding efforts.
While stock art can be reused, production fees are still required as modifying the files requires R&D to make sure output is of a high quality. Similar to cooking, changing a spice can alter the meal. With graphics the human eye can see within a millionth of an inch….we are very careful when changing a single spice.
This type of art generally requires the entire panel of glass be covered with our crystal clear safety substrate.
Project specific samples need authorization and approval with client usually receiving a 12" x 36" reduced scale print of the smoke pattern.
Custom Printed
HDClear 2
Optically Clear Window Film